Saving lives with renewable energy
Mission
To maximize the capacity of first responders to save lives with renewable energy
Vision
Every first responder station around the world is equipped with a renewable energy backup system
No person loses their life because first responders lack access to power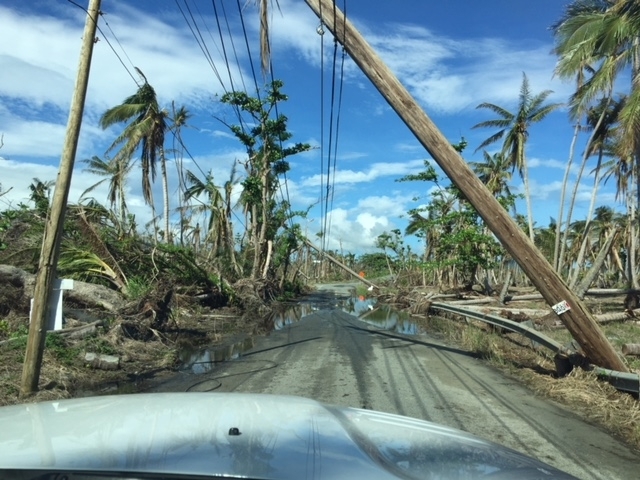 On September 20th, 2017, Hurricane Maria knocked out power to 100% of Puerto Rico's 3.4 million residents, hospitals, telecommunications, fire stations, and 85% of the police stations. The storm devastated all aspects of the electrical grid (the above ground lines, transformers, power plants) which resulted in the longest blackout in the United States. An estimated 2,975 people died in Puerto Rico as a direct result of Hurricane Maria, making it the deadliest natural disaster in the United States in 100 years.
In emergency situations, first responder stations transform into makeshift crisis centers, playing an essential role for local communities. Even though stations are typically outfitted with backup diesel generators, they are vulnerable to supply chain failures and mechanical breakdown. Without any form of power, first responders lose their capacity to: 
effectively receive emergency calls from 911 dispatchers

charge radios and operate computer systems to communicate and coordinate mutual aid

operate the stations' A/C, cooling fans and lights

operate the watch-office, which serves as an emergency resource and community haven
First responders cannot risk interference with key communication resources, especially while facing unpredictable and dangerous conditions that occur after disasters. When the electric grid fails, first responders are unable to respond.
The scale and urgency of this problem is only increasing. As our climate changes, natural disasters are increasing in frequency and intensity. Action is needed now to ensure the critical needs of first responders in vulnerable regions are met so they can save lives when a disaster occurs.
In partnership with first responder departments and community leaders, Solar Responders manages the end-to-end solar panel and battery storage installations on first responder stations, including selection, design and procurement, installation, and training.
During the day, solar panels will produce enough energy to power the critical loads of the first responder station, and charge the batteries to power those same needs during the evening and during periods of inadequate sunlight. Our work will have both short and long-term social, environmental, and financial impacts.
Short-term, our work is intended to significantly increase the capacity of first responders to save lives in emergency situations, as well as provide an around the clock safe haven for community members. Longer-term, resilient first responder systems decrease the human cost of disasters, reduce the carbon footprint and need for fossil fuels, and significantly lower or eliminate energy bills of individual first responder stations. By providing a resilient, reliable, and renewable source of backup power directly to first responders, Solar Responders will reduce the damage caused by disasters. As we learn from our efforts, we will strive to define and refine our impact.
HUNTER JOHANSSON
Founder & Chief Executive Officer
The common thread in Hunter's journey has been an unwavering drive to serve and affect positive change through community organizing, advocacy, partnership building and fundraising. His career has spanned on the ground fieldwork, including with the St. Bernard Project where he oversaw physical home reconstruction for Sandy victims to leadership roles in fundraising for social and environmental impact organizations, nonprofits, and political campaigns. .
After meeting Captain Richard Birt for the first time in Puerto Rico, Hunter knew he and Captain Birt shared a common vision and passion for a strengths-based approach to honoring and building the resilience of vulnerable communities using renewable energy. Moved by the tri-fold opportunity to save lives, positively impact the environment, and create cost-savings by equipping first responders with renewable energy, Hunter co-founded Solar Responders.
Hunter holds a BA in Applied Economics from the University of Vermont and an MPA in Non-Profit Management from New York University .
Richard Birt
Advisor
Richard is a 29-year veteran of the fire service, and is currently working as a Firefighter Captain for Las Vegas Fire and Rescue. Richard lives in Cold Creek, Nevada, an off-the grid solar community, with his wife and two children.
Richard is one of Nevada's leading renewable energy advocates. In 2016, he led the fight against a proposal by the Nevada Energy Utility to change the State's net metering rules. Through his leadership, Richard delivered over 500 firefighter signatures to the Governor's office in opposition to proposed changes in the homeowner solar energy fee and credit structure. As a result of his advocacy, the proposal was rejected, and renewable energy in Nevada would boom once again.
As an Advisor, Richard has helped Solar Responders develop our supply chain consisting of professional local solar installers, battery developers, as well as a deep partnerships with the local first responder leadership and government officials. These relationships are essential for the successful, long-term delivery of the work of Solar Responders.
Francisco Cruz
Fire Department Liaison, Puerto Rico
Francisco, a 32-year veteran of the Puerto Rico Fire Department, currently serves as a Lieutenant in the District of Humacao, where he supervises the daily operations of eight fire stations. Humacao took a direct hit from Hurricane Maria, with winds upward of 160mph. Power did not return to the area for several months, and the station's diesel generators failed. All eight of Francisco's fire stations were inoperable.
When Francisco met Richard, and saw the solar and storage system that was installed at a neighboring fire station, he knew that renewable technology was the Department's solution to an unreliable energy grid. With Richard's institutional experience in the fire service and in-depth knowledge of solar technology, coupled with the Department's full-backing of the project, Francisco firmly believes Solar Responder's vision will become a reality.
Francisco strongly supports the mission of Solar Responders because "the installation and use of solar panels on fire stations is of great benefit, and will help to solve the communication problems, so that the Fire Department can help the neighborhood when they visit our stations to use medical equipment or to give therapies and treatments. The systems helps us to maintain basic and essential services for the people of Puerto Rico."